/ apparatus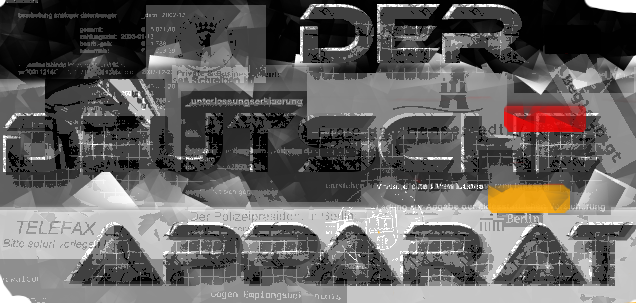 + + + e n g l i s h + + +
the german apparatus2k00-2k03#200009
Artistic research-process
INITIAL SITUATION
The new economy collapse in 2000 intensified the reproach against germany, that the german structures are immoveable and incrusted. The talk was about insecure investors and consumers, about powerlessness, anxiousness and disinterest, even about loss of confidence of the people in their state. That the official structures are coming from the bismarck-times, that the 'state-mills grind to slowly' and do not much have to do with a modern structure-shape in a time of globalization, cross-linking and online-communication, are this just prejudices or qualified reproaches?


PROCEDURE
In front of this background erwin liedke involved itself respectively let himself be involved into different communication-processes, in which obscurities and inexactnesses happened and where most people would tend to get rid of it because of lack of time, lack of courage or knowledge or because of practical intelligence.
By interfering the normally standarized procedure and implementing alternative paths, particular process-correspondences are generated with substantial insights into the german apparatus. The involved companies, public authorities and institutions were initially not informed about their participaton in that research-project. A copyright-sign on all documents and a reference to 'GeheimRat' together with a security-sign pointed to a continuative interest.


"I think, modern art has made life to art and now I think it's time, that we will transform life (and I mean life in terms of public authorities, socially rules and similar things), the environment and even everything else to art, in other words to attend those things and to create out of a confusion something, that will make easier our lifelihood instead of distressing us all."

[Free translation: richard kostelanetz, john cage im gespraech, koeln: DuMont, 1991, p. 163]
+ + + d e u t s c h + + +
der deutsche apparat2k00-2k03#200009
Kuenstlerischer forschungsprozess
AUSGANGSSITUATION
Der zusammenbruch der new economy 2000 verstaerkte den vorwurf an deutschland, dass die deutschen strukturen unbeweglich und verkrustet seien. Von verunsicherten investoren und verbrauchern war die rede, von machtlosigkeit, aengstlichkeit und gleichgueltigkeit, gar von verlust des vertrauens der buerger in ihren staat. Dass die beamtenstrukturen aus bismarcks zeiten stammen, dass des staates "muehlen zu langsam mahlen" und mit modernen strukturauspraegungen in einer zeit der globalisierung, vernetzung und online-kommunikation relativ wenig zu tun haben, sind dies nur vorurteile oder berechtigte vorwuerfe?


VORGEHENSWEISE
Vor diesem hintergrund verwickelte sich bzw. liess sich erwin liedke in verschiedene kommunikationsprozesse verwickeln, in denen unklarheiten und ungenauigkeiten passierten und aus denen sich in aller regel buerger aufgrund fehlender zeit, fehlenden mutes und wissens oder einfach aus praktischer intelligenz entziehen.
Durch die stoerung des in der regel standardisierten ablaufes und die einbringung alternativer wege ergaben sich jeweilige prozess-korrespondenzen, die umfangreiche einblicke in den deutschen apparat ermoeglichen. Die beteiligten firmen, behoerden und institutionen wurden ueber die teilnahme an dem forschungsprojekt zunaechst nicht informiert. Ein copyright-zeichen auf allen schriftstuecken sowie eine bezugnahme auf 'GeheimRat` nebst security-zeichen deuteten auf ein weiterfuehrendes interesse hin.


"Ich glaube, die moderne kunst hat das leben zur kunst gemacht, und jetzt finde ich es an der zeit, dass man das leben (mit leben meine ich hier dinge wie oeffentliche verwaltung, gesellschaftliche regeln und aehnliches), die umwelt und ueberhaupt alles in kunst verwandelt, anders gesagt, sich ihrer annimmt und aus einem blossen durcheinander etwas schafft, das unsere existenz erleichtert, anstatt uns alle ungluecklich zu machen."

[richard kostelanetz, john cage im gespraech, koeln: DuMont, 1991, s. 163]
SIX PROCESSES
communication-structures of tax + revenue offices #199931, may 2k00 til 2k03
artist pseudonym #199999, may 2k00 till 2k03
authority apparatus in a towing-away setting #199921, may 2k01 til 2k03
temporisation-moment in the context of a vehicle-immobilisation #199967, march 2k02 til 2k03
communication in the context of a separation covetousness by a german bank #199933, may 2k02 til 2k03
trading with data-material #199961, may 2k02 til 2k03
SECHS PROZESSE
kommunikationsstrukturen von finanzaemtern #199931, mai 2k00 bis 2k03
kuenstlerpseudonym #199999, mai 2k00 bis 2k03
behoerdenapparat im zusammenhang einer abschleppaktion #199921, mai 2k01 bis 2k03
temporisationsmoment im rahmen der festsetzung eines fahrzeugs #199967, maerz 2k02 bis 2k03
kommunikation im rahmen eines abloesungsbegehrens einer deutschen bank #199933, mai 2k02 bis 2k03
handel mit datenmaterial #199961, mai 2k02 bis 2k03
correspondences in a safe | korrespondenzen in einem tresor
"I imagine a new type of cognition research, which uses the system-theoretical skills for exploration of matrices.
And I imagine that it would be worthwhile to make sure the cooperation of artists too. Because art is that kind of sceptical observation of pictures, frames, games, gestures and tones, which is able to prove the matrices that are presupposed by the system codes and are held into distance. Art creates this completely without the assistance of the science. But this must not to be taken, as it could not become fertile to combine this artistic view for the ambivalence of attractions with the scientific view for the calculus of the connexion inquiring operation. "

[Free translation: dirk baecker, wozu systeme?, berlin: kadmos, 2002, p. 39]
"Ich stelle mir einen neuen typ von kognitionsforschung vor, der die systemstheoretischen mittel zur exploration nutzt.
Und ich stelle mir vor, dass es sich dazu lohnen wuerde, sich der mitarbeit von kuenstlern zu vergewissern. Denn die kunst ist jene skeptische beobachtung von bildern, rahmen, spielen, gesten und tonfaellen, die in der lage ist, die matrizen nachzuweisen, die von den systemcodes vorausgesetzt und auf abstand gehalten werden. Sie schafft dies ganz ohne die hilfestellung der wissenschaft. Aber das muss nicht heissen, dass es nicht fruchtbar werden koennte, diesen kuenstlerischen blick fuer die ambivalenz von attraktionen mit dem wissenschaftlichen blick fuer den kalkuel der anschluss suchenden operationen zu kombinieren."

[dirk baecker, wozu systeme?, berlin: kadmos, 2002, s. 39]
FACTORS OF INTEREST
Hierarchy flattening, mobility, transmission, responsibility assignment, skills, transparencies, modified information-allocability and - receivability, responsibility adoption, revisability of decisions, commensurability concerning the value time, digitality, system codes.
FAKTOREN DES INTERESSES
Hierarchie-abflachung, mobilitaet, uebertragung, verantwortungszuordbarkeit, kompetenzen, transparenzen, veraenderte informations-verteilbarkeit + -empfangbarkeit, verantwortungsuebernahme, revidierbarkeit von entscheidungen, verhaeltnismaessigkeit betreffend die dimension zeit, digitalitaet, systemcodes.
FIRST RESULTS, CONCLUSIONS
Germany presents itself as a switchyard of responsibilities and competencies.
In the 'carrying-out' range the apparatus is set up like a one-way sluice-system.
Over-regulation leads to immovablenesses and statics.
The problem causer is not oriented and bound to problem solutions.
Officials develop their partially protruding job-training and their authority in their narrow specialiced area up to perfection.
Linear operation methods hinder cross-linkings.
System disturbances will frequently be faced with a hierarchical gestus.
The system is aligned to mass-production.
Within a procedure the citizen is structurally positioned not equitable.
ERSTE ERGEBNISSE, SCHLUSSFOLGERUNGEN
Deutschland stellt sich als ein verschiebebahnhof von verantwortlichkeiten und zustaendigkeiten dar.
Das system ist im bereich 'abwicklung' wie ein einbahnstrassen-schleusensystem aufgestellt.
Eine ueberregulierung der ablaeufe erwirkt unbeweglichkeiten und statik.
Der problemverursacher ist nicht an problemloesungen orientiert und gebunden.
Beamte bauen ihre zum teil hervorragende ausbildung und ihre kompetenzen in ihrem schmalen fachbereich bis zur perfektion aus.
Lineare arbeitsweisen behindern vernetzungen.
Systemstoerungen wird haeufig mit hierarchischem gestus begegnet.
Das system ist auf vermassung ausgerichtet.
Die verfahrensablaeufe positionieren den buerger strukturell ungleichberechtigt.